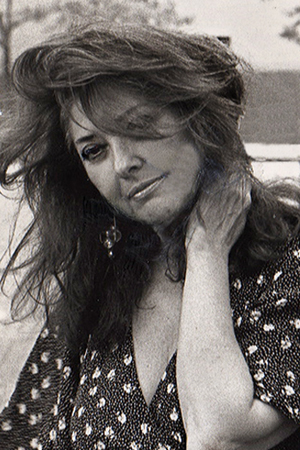 1935 – 2015 STOCKBRIDGE Gladys Carbo Flower, 80, Cuban-American singer/composer HAVANA CARBO, née Gladys Margarita Lourdes Carbó Ramiro García y de la Torre, died peacefully on October 25, 2015 at Berkshire Medical Center in the loving presence of her family. Born in Havana, Cuba on February 22, 1935, she was the daughter of Nicolás Carbó and Herminia Ramiro.
She attended Grover Cleveland High School in Queens, NY and Villanova University in Havana, Cuba where she studied Philosophy and Languages. She later studied musical theater at New York University. She moved to Stockbridge, MA in 1964 where she became active in the civil rights and anti-war movements. Gladys was also a pioneer in the women's rights movement with a close cohort of early Berkshire County feminists and hosted many meetings in her home on Church Street.  In the early 70's, she managed the bar at the renowned Music Inn at Stockbridge, selecting and promoting a myriad of popular and jazz artists that we know and love today. She became a self-made business woman and in the 1970's purchased the front of the 1884 building on Main Street, Stockbridge where she opened "Woffin's Corner," her very own, singularly unique and first-of-its-kind in the Berkshire's, European toy shop. She later transformed Woffin's Corner into "Habanera Boutique" — a lavish, elegant and utterly decadent fine women's clothing store with globally imported fashions. Her series of business successes ultimately allowed her to return to her first love and finally pursue the musical dreams she had deferred for decades. She returned to Stockbridge in 2013 after living, performing and recording in Manhattan for 20 years.
Growing up in Havana, Cuba in the 30's and 40's, Gladys was raised in its notably rich, rhythmically complex musical traditions.  She displayed a natural gift for music and a facility for the piano by age three.  By the age of eight, she began formal music lessons, relying mostly on her ear, and memorizing her lessons. Raised in an environment that celebrated music but viewed "nightclub" performing as inappropriate for a young lady, a budding career that began during her New York high school years was cut short. As a teenager, in high school, she created and led a vocal quintet, "The Holidates," and held her first professional job as vocalist with Bobby Friedlander's Band. Her introduction to American popular song and jazz came via Chet Baker, Dinah Washington, Sarah Vaughn, Ella Fitzgerald, Johnny Hartman, Frank Sinatra, June Christy, Mel Tormé, and later Shirley Horn, Maysa, Elis, Regina, João Gilberto, Edu Lobo, Ivan Lins and Antonio Carlos "Tom" Jobim. Fascinated and inspired by the directness of Brazilian lyrics, incomparable melodies and harmonies, she taught herself Portuguese to better understand the culture, and to do justice to her forthcoming compositions. As luck would have it, while searching for lyrics to a song she heard sung by Gilberto called, "Retrato em Branco e Preto," she was put in contact with its composer, the legendary Jobim, who gave generously of his time, by clarifying, translating, and answering her questions. With a style that defies category, sometimes described as "Chamber Bolero/Jazz". She wove her tapestry of meticulously chosen and rarely heard gems traveling seamlessly between Spanish, English, French, Italian and Portuguese, enchanting audiences and critics alike, ushering the listener into her world. Her many musical compositions were greatly influenced by composer Ralphe Vaughan Williams and musician Michel Legrande. The former Soul Note recording artist (Street Cries, 1991, So I'll Dream You Again, 1997, and Luna de Varadero, 2005) released Through a Window, Like a Dream, 2007 on MODLmusic, her own label. Through a Window, Like a Dream received the same enthusiastic response given her previous recordings, which garnered glowing reviews from as far as Braga, Portugal to Rio de Janeiro, Brazil, where Arnaldo Desouteiro, (La Tribuna) wrote that Carbo possesses a "…singularly warm timbre…extraordinary phrasing and stirring expressiveness… and "is destined to develop a cult-following", calling Luna de Varadero "SUBLIME…a perfect CD". As a result she was selected "Best Female Jazz Vocalist of 2004 and 2007 award – International Artists' Poll, Rio Brazil". Her "Stockbridge Requiem," composed for two sopranos, full chorus, organ and Latin jazz quartet was performed at Saint Peter's Church in New York, and the Marian Chapel in Stockbridge. She was a BMI member since 1985 and a Local 802 member since 1993. She was nourished by a love of music, family and friends. Gladys was also an amazingly gifted painter, sculptor and artist, leaving an additional published legacy of unique pen & ink drawings depicting various Stockbridge landmarks. She cherished her gift of music and art, fully aware of the responsibility and humility that came with that gift, while striving to keep her dream unconditionally uncompromised.
Gladys is survived by four artistic, successful and loving children and partners, Michael Lavin Flower and fiancé, Alison Collins of Lenox, Robert Lavin Flower and wife, Laurie of Stockbridge, Aline Flower and partner Mary Yu of Bainbridge Island and Seattle, WA and Ethan Alan Flower and wife, Rebecca East of Los Angeles, CA. She also leaves her adoring brother, Nicolás Andrés Carbó, her niece Juliet Carbo DiTroia and husband John, as well as four grandchildren, Andrew, Wilson, Victoria Flower and Sarah Flower McCraw. SERVICES: A private family service is planned for Saturday. A public celebration of her life and music will be held in the near future. Per her wishes, donations can be made to Saint Peter's Jazz Vespers.